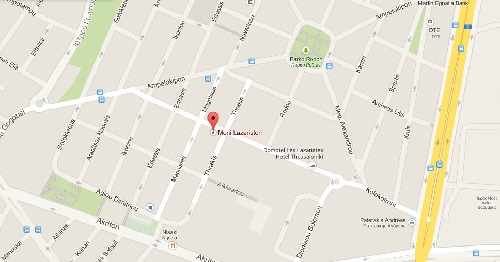 BY CAR: Moni Lazariston is approached by the centre via Lagada Road. Kolokotroni St. is vertical precisely in front of the main entrance of the army camp Pavlos Mela. By the harbour, via Dendropotamou Road and Akriton St. By the Eastern regions, it is approached via the regional road.

P: Moni Lazariston allocates an underground parking space of 100 cars for the service of visitors. It is approached via Kolokotroni St and costs 2€ / 3 hours.

BY BUS: Many buses stop near Moni Lazariston on Lagada road (camp Pavlos Mela): 18 (Agioi Anargyroi), 27 (Stavroupoli-University), 38 (N. Eucarpia-Train Station), 56 (Oraiokastro-Train Station). Bus 34 (Ano Ilioupoli - Square of Aristotelous ) also stops near Moni Lazariston.

Visitors with motion problems: In all the spaces of Moni Lazariston there is access for persons with special needs, as well as the corresponding services.

Card Phone: There is one at the internal pavement of Moni Lazariston.